Farm holiday in Radstadt in the Pongau region of Salzburg
A farm holiday for the whole family in the Province of Salzburg


Farm holiday in a quiet location
The Brandstättgut in Radstadt in the Pongau region of Salzburg is perfect for a relaxing farm holiday.  The quiet location is makes the farm ideal for a holiday with the whole family. Children can romp around in the woods or in our play area and enjoy the fresh country air. Sportsmen and nature-lovers can start hikes or bike rides from the Brandstättgut and explore the fabulous mountain landscape. Radstadt lies in the heart of the Salzburger Sportwelt, part of the Ski-Amadé. The ski areas of Flachau, Zauchensee and Schladming can be reached in 20 minutes. The restaurant Tauernblick is just 1,5 km away from our farm and offers a large variety of dishes.
Life and work on the farm
As farmers with heart and soul we are dedicated to the well-being of our animals. In summer the cows graze on the lush green alpine meadows which they love. You can taste it when you taste our fresh cow's milk. We also have pigs and chickens on the farm. The rabbits and cats are not shy and love lots of attention and being stroked.
Not far from our farm you'll find the Matthias farm with Carpathian horses, where you can enjoy freedom on horseback.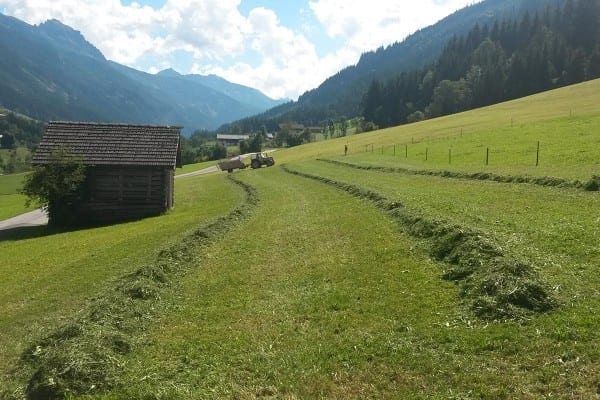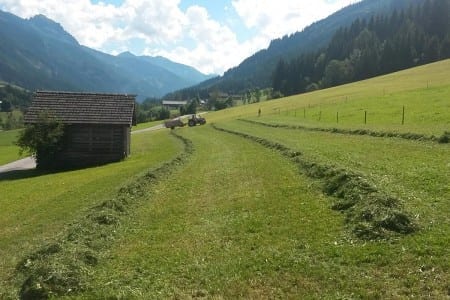 Farm produce at the Brandstättgut
Our own farm produce complements the continental breakfast. Savour the fresh cow's milk and freshly-laid eggs in the morning. Our speciality is our own traditional home-baked farmer's bread.